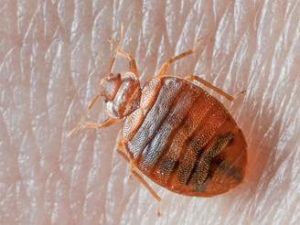 Remember when you were a kid and your parents would say "Good night, sleep tight, don't let the bed bugs bite."?  Unfortunately these days that could easily be the case.
Those bites you wake up with could be from almost anything. Have you been hiking or on a picnic?  Bites could be from chiggers or mosquitoes.  However, if you traveled lately, it might just be bed bugs.  Bed bugs are hitch hikers.  You can easily pick them up in any public place.  A hotel stay, the movies, public transportation, visiting a friend or family member or vise versa are just a few of the possibilities.
Bed bugs don't just live in the bed itself.  In studies they have been noted to be up to 16' from the resting place, but certainly could be closer.  Bed bugs can hide in the night stand, dresser, box springs, bed-frame, behind pictures on the wall, in a door or window frame, behind baseboards and any number of other places.  They are nocturnal, so it's less common to see them during the day.  They feed only on blood.  They will go to the first area of your body exposed when you're at rest.  They do not search for the best spot to feed or look under covers.  Typical places for bed bug bites are on the side of your face, an arm and possibly part of a leg if left uncovered.  They will not climb up a sleeve or under the leg of your pajamas to find their food.   Bed bug individuals do not feed daily.
Once you suspect or find an infestation you need a professional to rid your home of those critters that have been robbing your sleep and peace of mind.  Help is just a phone call away.
STL Pest Control bed bug experts are there to help.  Call us today at 314-833-6222.  We'll bring that good night's sleep back to your home.