Chesterfield Mo. Pest Control
Pest Control for Chesterfield MO. 63017
Since 1989, STL Pest Control has been providing expert pest control solutions in Chesterfield MO. 63017 to protect health, families, businesses and properties against pests of all kinds. We believe in solving pest problems at the source, utilizing the latest industry technology available and an old fashioned personalized approach to your unique situation, helping you to rest easy. We service all the neighborhoods of Chesterfield MO. Call us today at 314-833-6222.
Whether you're experiencing problems with bed bugs, mosquitoes, rodents, mice, wasps or ants, STL Pest Control is the answer! All of our services are tailored to your specific needs. Expect reliable, honest, on-time service with the Rose exterminator pros. With our convient location we serve St. Louis and the Chesterfield 63017 area with a certified staff that is here for you. Trust America's most experienced pest control company – STL Pest Control!
At STL Pest Control, we've earned our reputation for how we treat pests, and also for how well we treat our customers. While our services and methods have continued to evolve since 1989, our values have not:
To embody the ideals of an industry leader by providing careful, conscientious, professional pest control solutions
To conduct business in a manner consistent with the highest standards of integrity and ethics
To make customer satisfaction our top priority
Chesterfield MO. 63017 is a city in St. Louis County, Missouri, United States, and a Western suburb of St. Louis. As of the 2010 census, the population was 47,484, making it the state's fourteenth-largest city. The broader valley of Chesterfield was originally referred to as "Gumbo Flats", derived from its soil, which though very rich and silty, became like a gumbo when wet. Chesterfield is half the size of St. Louis.
Portions of Chesterfield are located in the floodplain of the Missouri River, now known as Chesterfield Valley, formerly Gumbo Flats. This area was submerged during the Great Flood of 1993; higher levees built since then have led to extensive commercial development in the valley. Chesterfield Valley is the location of Spirit of St. Louis Airport, used for corporate aviation, as well as the longest outdoor strip mall in America.[8] The remainder of Chesterfield is located on the bluffs above the floodplain, and includes residential and retail development. Chesterfield is also home to several mid- to high-rise buildings, the tallest being the Drury Plaza Hotel, which is 12 stories and 125 feet tall.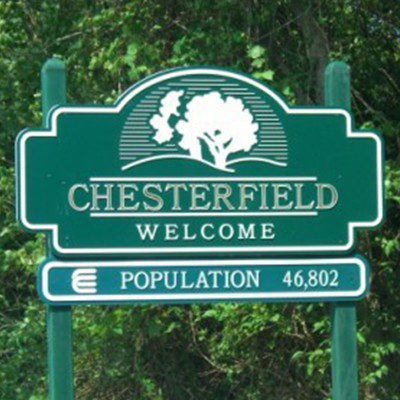 Residential Services
Total Home Pest Control
Bed Bug Treatments
Wildlife Management
& More
Commercial Services
General Pest Management
Industry Customized Solutions
Mosquito & Bird Control
& More